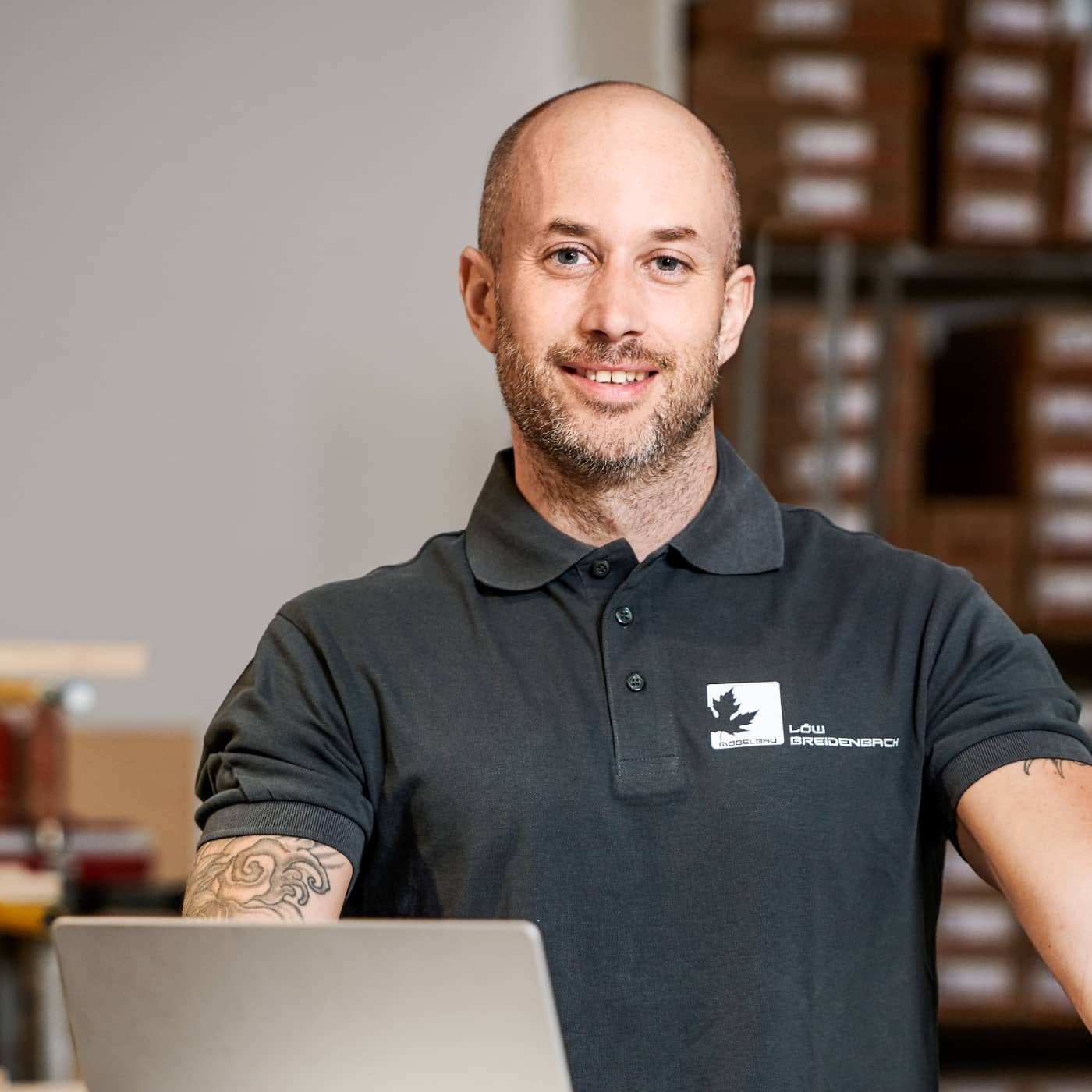 Cutting
optimization
for nesting
machines
#craftgoesdigital
The software for
optimal nesting patterns

intelliDivide Nesting
Upload a parts list and click to select an optimized nesting pattern: Use our optimization software directly in the browser on your PC. It only takes a few clicks for the web app to calculate optimized nesting results for your CNC machine. Simply download the already-created woodWOP program file for your machine to get started. What's more: The software can be used by any number of employees — thanks to the company license, the costs always remain the same.
WATCH THE DEMO VERSION
FREE TRIAL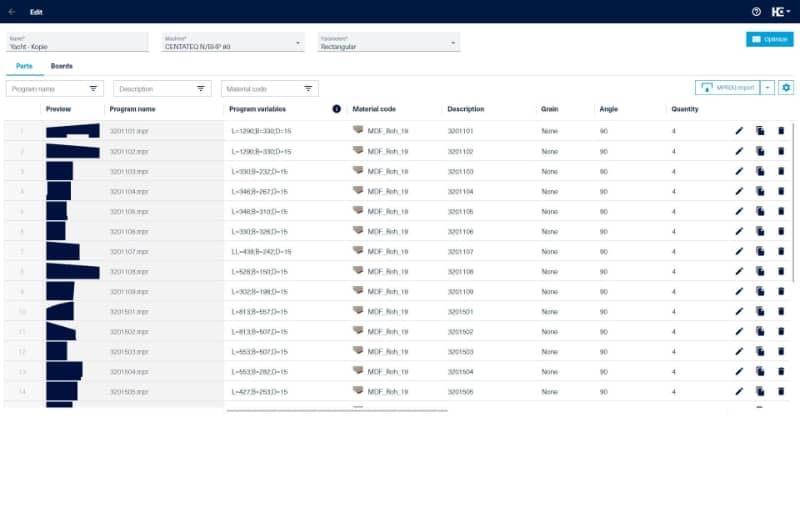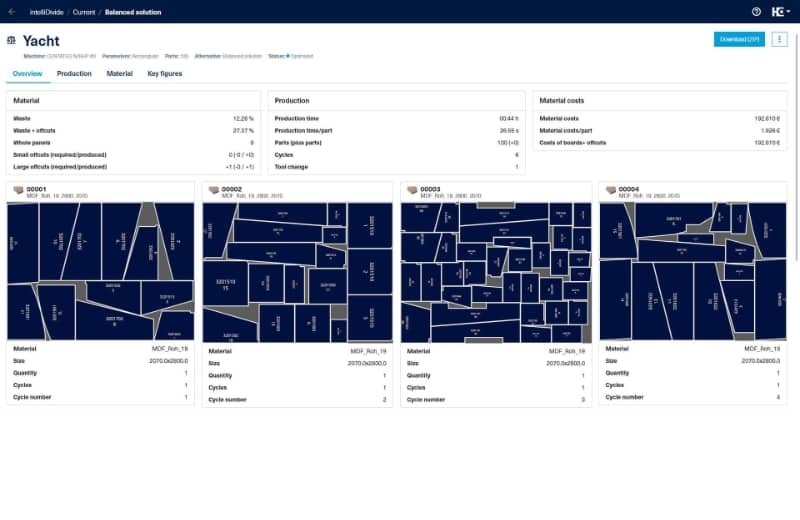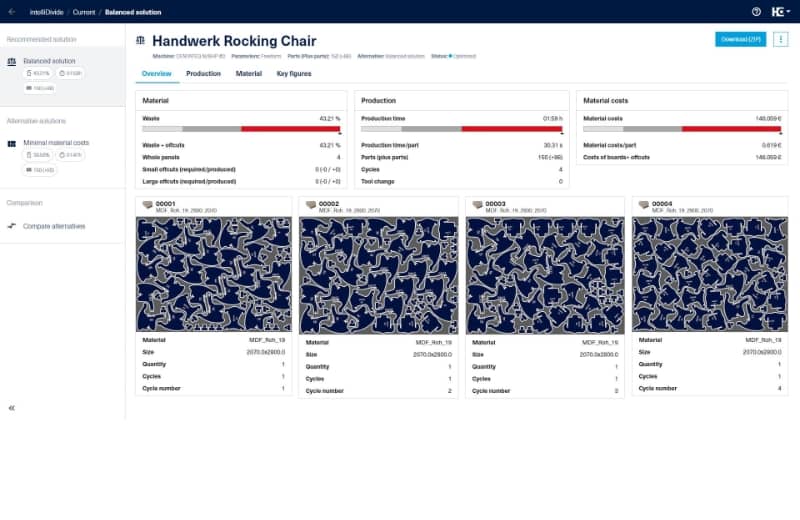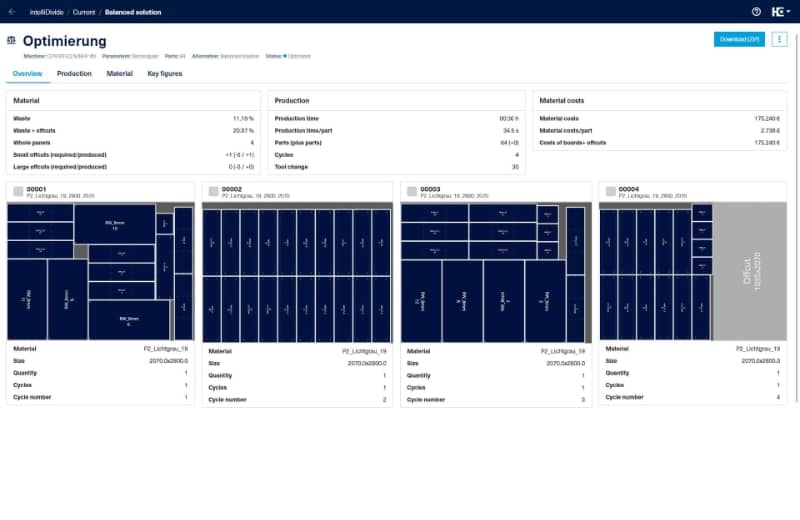 The benefits
Significant savings in personnel costs and time: Calculate your nesting patterns automatically in a very short time. The web app automatically nests woodWOP programs on unprocessed panels, so you can use the time saved for something else.
Less waste, lower costs: The software uses as much of the available panel material as possible, allowing you to save material and money.
Rectangular or free formed: intelliDivide Nesting can be used flexibly.
Clear overview: Key figures for the nesting process (e.g. number of panels, proportional percentage of offcuts etc.) are displayed.
One license for all employees: You and your employees use the web app flexibly whenever you need it. There's no need to pay for licenses for each workstation — simply open the browser on a PC to get started.
Includes material management: The materialManager for managing the material types and panel sizes for the optimization centrally is included. Here too, you simply use the web app in your browser.
Want to find out more?
homag.com/intellidivide-nesting
What our customers say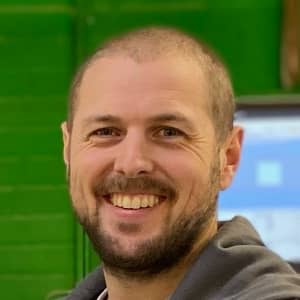 "As CNC beginners, we are impressed by the simple user interface of intelliDivide Nesting. What impressed us was the direct contact between HOMAG and SmartWOP, which meant that we never had to go between the different software companies."
Marcel Hoppe (Master Carpenter), MH cabinets / Ihr Designer-Schreiner
You might also be interested in:


Further solutions.
Any questions?

We are here to help you!